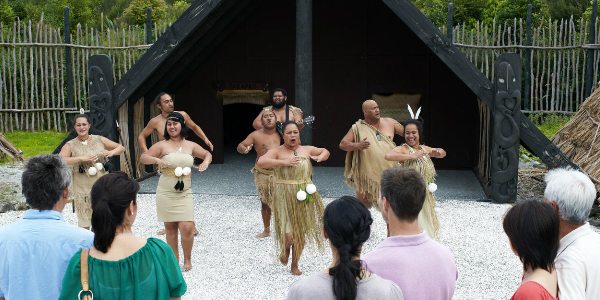 Pack your bags and bring the whole family
If you're looking for somewhere to stay with the family in Rotorua, Holiday Inn Rotorua is a great choice. Finding a hotel that offers comfort and enough space for both adults and children can be difficult, and you also need to make sure the surrounding area offers plenty of things to see and do to keep everyone entertained. What's more, at Holiday Inn Rotorua Kids Stay and Eat free.
Home for Mountain Biking
Holiday Inn Rotorua is located on the outskirts of Redwood Forest, home to a wealth of exotic native tree and plant species. Exploring the forest can be a great family bonding experience. We have a purpose built mountain biking cleaning and storage facilities to help keep you on top of everything. You can experience nature and investigate the area using the walking or mountain biking tracks, enjoying some quality time together in the fresh air. And that's just the beginning.

The Must-See Geothermal Village
The Holiday Inn Rotorua is in close proximity to the Whakarewarewa Geothermal Village, which presents an amazing educational experience. Visitors are welcomed into this traditional Maori village to learn about its history and culture, from its wooden carved houses to its thriving Arts and Crafts Institute. The village is built on an area of geothermic activity, so while you're here you can take in the 500 natural hot springs and geysers for which it's famous for. Did you know that the natural heat from the springs is also what keeps our swimming pool heated all year round?
Family Holiday Adventure in New Zealand
We were delighted to be recently included in the article by Expedia, 'Your Next Family Holiday Adventure in New Zealand', for our dedication to making your next family holiday one to remember!
There are discount packages available for entry into some more of the local attractions and activities. OGO Rotorua ball rolling is a fun day out for the family (more details in Expedia's article), as is exploring the area's land and water on a Duck Tour in an amphibious bus. Rainbow Springs Nature Park is another essential excursion for both children and adults wanting to learn more about New Zealand's rich natural history. This essential conservation project, set in beautiful forestry, offers you the chance to meet the nation's most beloved species, the Kiwi. Rainbow Springs plays an important part in Kiwi conservation, having hatched over 1,500 at the park itself. It has a playground area and water ride for some more family fun!
Helpful Concierge and Reception team
Our friendly staff at the Holiday Inn Rotorua are happy to advise you further on any of these excursions and activities. The hotel's Chapman's Restaurant welcomes children and offers a kids' menu, in addition to a buffet and a la carte food to suit all ages and tastes, including a variety of delicious traditional New Zealand dishes.
Holiday Inn Rotorua is a safe and relaxing environment for adults and children alike and is well placed to allow you to explore this beautiful part of the world to the fullest.