Proud to be green in more than just our logo

Holiday Inn Rotorua has been recognised by two global companies for its commitment to being an environmental hotel.
As a business who impacts the environment, we have made it our mission to benefit the community around us and operate in a sustainable nature. Some of the Green Friendly business practices which we take part are:
Our geothermally sourced water heats our pools and showers
We purchase paper where the trees are grown in an environmentally efficient manner
We replace light bulbs with LED bulbs where possible
We have efficiency targets with our power usage to reduce our impact on the environment and be sustainable
We are a sponsor of the Rotorua Trails Trust so assist volunteers with maintaining the Redwoods Forrest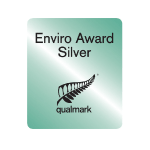 TripAdvisor GreenLeader Bronze Award
We have recently received a special recognition for our green practices. We are very proud of this and will continue to work hard to increase our status.
Qualmark is New Zealand tourism's official quality assurance organisation so this is a valuable award for us and once again one we will continue to improve.