Skyline Rotorua is an all weather, all year round attraction suitable for all ages and is located 10 minutes drive from the hotel.
ATTRACTIONS IN ROTORUA VIEW ROOMS
Take a ride in the eight seater gondola, the first of its kind in the Southern Hemisphere where you will enjoy a 487 metre ride up the side of Mt Ngongotaha, with spectacular views over Rotorua. Try the luge track, a fun filled gravity ride on a three wheel cart which uses a unique steering and braking system providing the rider with full control. Now with six entry points to three tracks offering varying terrain ranging from the Scenic Track to the Advanced Track, the Luge is a great fun filled family activity.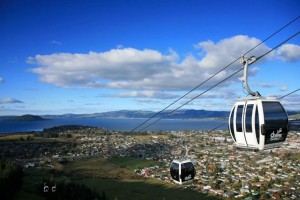 Additional activities include The Sky Swing, Simply NZ Souvenir Shop, Scenic Walking Tracks and SkyVue Extreme 4D Spaceship.
Open daily 9am until late.
07 347 0027