Rainbow Springs Kiwi Wildlife Park has been in operation since 1932.
ATTRACTIONS IN ROTORUA VIEW ROOMS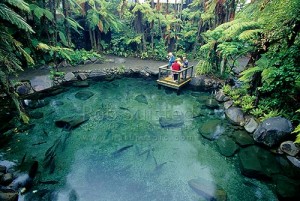 Spread over 22 acres of parkland, Rainbow Springs offers a truly unique experience, with the opportunity to see New Zealand's native animals and environment during the day and at night. Your ticket allows unlimited entry for 24 hours so there is no additional charge to visit the nocturnal animals.
Learn more about kiwi conservation with a visit to Kiwi Encounter. Operated by the National Kiwi Trust and located on site at Rainbow Springs, this unique scientific attraction allows you an insight into the entire process of kiwi conservation – from kiwi egg collection in the wild, incubation, hatching and then raising of the kiwi until it's ready to be released back into the wild. Includes a 45 min guided tour which departs on the hour from 10am till 4pm daily.
Open daily 8am until 11pm (except Christmas Day).
0800 724626