Agroventures offers truly unique New Zealand adventures for men, women, children of all ages, from adrenalin junkies, speed demons to those who enjoy a more low key experience.
ATTRACTIONS IN ROTORUA VIEW ROOMS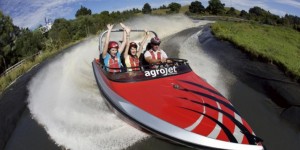 Located 15 minutes north of Rotorua, we offer five exhilarating activities all conveniently located within 60 meters of each other. Our experienced, professional crew are with you all the way through guaranteeing your needs are met.
What makes us unique? Agroventures has the world's only Shweeb – a human powered monorail racetrack, Rotorua Bungy – a New Zealand icon, Agrojet - the fastest jet sprint experience in NZ. Swing from 40m towards the earth at 130kmph on NZ's one and only Swoop and the Southern Hemispheres' only wind tunnel at Freefall Xtreme. Spend an hour or the entire day – we will give you an unforgettable experience and a sense of accomplishment in that will remain long after you have waved us farewell.
(0800) 949 888
Email: [email protected]
Open daily 9am until 5pm (except Christmas Day).
Phone 357 4747
www.agroventures.co.nz