With an abundance of fun things to do and sights to see, Rotorua is the ultimate destination for your next getaway. From natural thermal spas, to romantic tree walks and adrenaline activities, Rotorua has it all. We've put together a selection of ideas to help plan a couples weekend escape in Rotorua.


Learn about Maori Culture
Why not add a cultural dimension to your Rotorua trip with an authentic Maori cultural experience?  If there is any place to immerse yourself and learn about New Zealand Maori culture, it has to be Rotorua. Visit Whakarewarewa: The Living Maori Village ⁠— here you will have the opportunity to see cultural performances, sample geothermally cooked Hangi and  learn about Maori traditions and the way of live of how early Maori settlers used to live.
Holiday Inn Rotorua hotel guests can enjoy 50% admission at Whakarewarewa: The Living Maori Village, located right next door- Simply ask one of our friendly staff at check-in for your discount voucher.


Explore the Redwoods Forest 
The famed Redwoods Forest has received an increased attention during the past year with the Royal's trip to Rotorua, and for good reason. Whether you choose to walk across 700 metres of canopy bridge or maybe mountain biking if your preferred mode of transport, there are various ways you can see the majestic Redwoods Forest.
Redwoods Treewalk 
Regardless of what time of the day you choose to visit The Redwoods Treewalk, you won't be disappointed by this unique ecological experience. See the majestic redwoods from a whole new perspective as you walk across the series of canopy bridges. During the night time the forest illuminates by this spectacular display of bespoke lanterns created by sustainable champion, David Trubridge.
Mountain Biking
Did you know that Rotorua is home to some of the world's best mountain biking trails? Whether you're a beginner or mountain bike extraordinaire, there are many great tracks to suit all abilities. Don't own a bike, no problem. Our friends at Mountain Bike Rotorua have you sorted with bike hire during your stay in Rotorua.
At Holiday Inn Rotorua we are lucky enough to be located a short drive away from the spectacular Redwoods forest.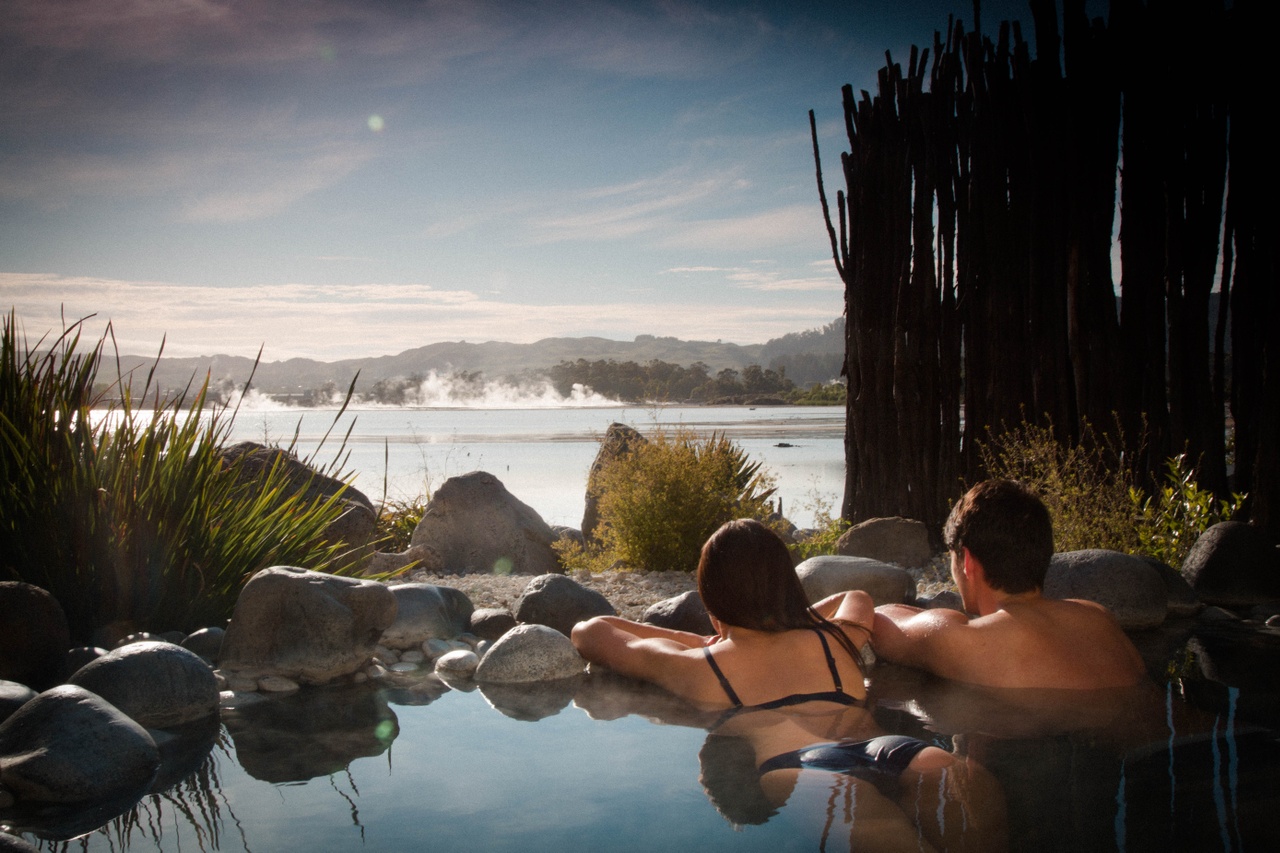 Relax at a Geothermal Spa
Treat yourself to some relaxation time with a unique Rotorua geothermal spa experience. Whether it's Polynesian Spa or Hells Gate, there are a number of natural spas in Rotorua which offer a lovely pampering experience, as well as health benefits from the natural waters.
Play a Round of Golf
It"s not everyday you can play on a golf course surrounded by dormant thermal areas in the picturesque surroundings of Whakarewarewa. Enjoy a unique golfing experience teeing off at New Zealand's only geothermal golf course.  The Arikikapakapa Rotorua Golf Club offers premier facilities with a full 18 hole, 70 par course.
Visit the Lakes of the District 
Beside the geothermal attraction on offer, Rotorua is famous for it's river and lakes. Whether its an icy swim, fishing, water sports or a picnic by the lake, there are many ways you can enjoy the lakeside and take in the stunning views. With 20 lakes on offer within 20 miles of Rotorua's centre, the choice is yours.

Lake Tarawera
Located just 20 minutes from Rotorua town centre, discover the wonders of the stunning Lake Tarawera. This is one of the largest and deepest lakes of the region. On your way, be sure to stop at the Buried Village of Te Wairoa to learn about the history of the Mount Tarawera 1886 eruption, one of New Zeeland's greatest natural disasters.
Where to Dine?
When in search of a excellent breakfast you don't have to travel far. Simply roll out of bed and head downstairs to Chapman's Restaurant, located in the lobby area of Holiday Inn Rotorua. Serving everything from your cooked breakfast classics, pancakes, fruits, cereals, pastries. Teat shere's something for everyone.
Located in Rotorua's town centre, Eat Streat is one of Rotorua's coolest spots for a bite to eat where you'll have plenty of cuisines to choose from.
If you're looking for a dining spot with a view, take the Gondola atop Mount Ngongotaha to Skyline Rotroua's Stratosfare Restaurant and Bar. 


Ready for your next Weekend Getaway?
Discover the Joy of Travel at Holiday Inn in a weekend retreat to Rotorua — but not just any retreat, a full-on deluxe escape.  Book our Deluxe Rooms and enjoy the the additional luxuries of expansive views, larger floor space, new contemporary décor and premium in-room amenities.