Discover the joy of Rotorua this Autumn
With the summer crowds coming to an ease, autumn is a magical time of the year to experience all that Rotorua has to offer. From the changing colours and falling leaves to the plentiful sights and outdoor activities to keep you on your feet, here's our Rotorua seasonal guide collating our favourite things to do during the autumn months.
Explore the Redwoods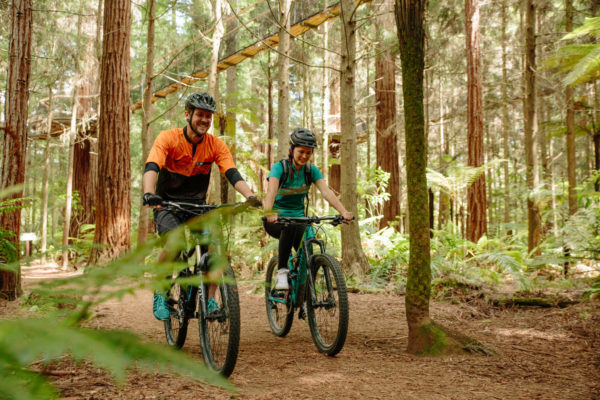 Here at Holiday Inn Rotorua, we are lucky to have the Redwoods (Whakarewarewa Forest) right on our doorstep. There are various ways you can choose to explore this majestic forest, whether it be by foot, mountain bike or even walking along a 20 m tall suspension bridge, the choice is yours.
Mountain Biking
While Rotorua may be home to over 160 km of Mountain Biking trails, the Redwoods (Whakarewarewa Forest) is by far one of our favourite natural playgrounds to explore. With a diverse network of tracks,  mountain biking is the perfect way to see Rotorua's stunning native surroundings.  You don't have to worry about being a mountain biking pro to experience Rotorua's world class mountain biking tracks, there are track for all ages and abilities.

And because we know that many of our guests are here to test the grounds of Rotorua's world class mountain biking trails, Holiday Inn Rotorua has fantastic mountain biking facilities, including a dedicated biking washing station and secure bike storage area inside the hotel. Better yet, after a long day of mountain biking you can warm up and soak your muscles in our geothermally heated pool. 
Don't have your own mountain bike? Our friendly neighbours at Mountain Bike Rotorua have bikes available for hire for both adults and kids.
Tree Walk
See and experience Rotorua's majestic 117-year old giants from a new perspective. The Redwoods Treewalk is quite possibly one of Rotorua's coolest new ecological attraction, in fact, the Duke and Duchess even went here during their royal visit to Rotorua . The Redwoods Treewalk  features 
28 suspension bridges, extending 700 metres in length in total, with elevate walkways ranging between 6 to 20 m high. You can also visit the Redwoods Treewalk from the hours of dusk to experience the Redwoods Nightlights. Here you will experience the forest illuminated by an enchanting display of bespoke lanterns created by New Zealand designer, David Trubridge.
Family Fun
With the Easter school holidays coming up, Rotorua is a great destination to spend some quality time with the family. In fact, families staying at Holiday Inn Rotorua can get more out of their Rotorua stay with our VIK (Very Important Kids) programme, providing exclusive discounts at some of Rotorua's top family attractions.
aMAZEme
The aMAZEme maze is a fantastic outing for the whole family and the perfect backdrop for a bit of friendly family competition. Get lost as you navigate your way around the 1.4km of hedges. After you successfully find your exit, head to the McGregor's Garden for play time with some adorable rabbits in the small animals enclosure. 

[Image Source: Velocity Valley]
Velocity Valley
If you're looking for a thrilling experience one quite like no other, look no further than Velocity Valley Adventure Park. Sample a selection of adrenaline pumping experiences, including Bungy Jumping, the Swoop sky swing, Velocity Valley's jet sprint experience, Freefall Xtreme (New Zealand's only wind tunnel) and the world's only Shweeb – a human powered monorail racetrack.
Unique Rotorua Experiences
Whakarewarewa: The Living Maori Village
Rotorua is quite possibly the best destination to immerse yourself in the heart of Maori culture and tradition. Learning about the traditional Maori way of life can be a great educational experience for the whole family. Witness Whakarewarewa's resident kapa haka group in action, see cultural performances, sample traditionally cooked hangi and enjoy a leisurely nature trail through the Whakarewarewa geothermal fields.
Upon check in at Holiday Inn Rotorua, ask one of our friendly staff for your 50% off voucher for Whakaewarewa: The Living Maori Village.
Hells Gate
Not only is Rotorua's unique geothermal landscape spectacular to look at, but it can do wonders for your skin with its healing mud properties. Play and bathe in mineral enriched mud at Hells Gates– there's no spa experience quite like it. If you're not keen on getting muddy, they also have sulphurous spas for similar healing benefits.